The stylish curvatures of the wall with blocks surrounding the shower in this bathroom presented a decorating challenge.
The textured wallpaper in the rest of the bathroom would not adhere to the curved wall, so I replicated the vines from the wallpaper onto the wall ...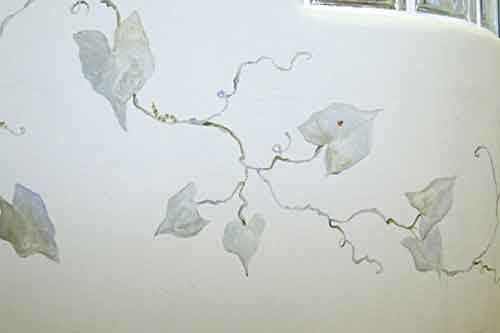 ... detail on curved wall.
I added some touches personal to the family in the form of birds, bugs, and caterpillars. Each of the little critters has a significant meaning to the family.
The following photos are of another bathroom. The family's two daughters share this one
The dragon flies and frog add interest. A field of daisies meander throughout the two room bath.
Murals | Dec Bath | Window Treat | Flowers & Cherubs | Fun Kitchen | Woodland | Emp Lounge